By KingPigeon |
23
November 2021 |
0
Comments
How to connect Modbus devices to network? three steps evolution make things different
Modbus
is a serial communication protocol, published by Modicon
(
predecessor
of Schneider Electric) i
n 1979 for PLC (Programmable Logic Controller) communication. It has become de facto standard in industrial communication as the common device connection way.
Modbus protocol comprises of Modbus RTU, Modbus ASCII, and Modbus TCP. Both Modbus RTU and Modbus ASCII run on the bus of RS232 and RS485, while Modbus TCP runs on the Ethernet network. With the development of Industrial 4.0, connecting equipment to networks is the trend. As the most-frequently-used protocol in industrial area, Modbus is widely embedded in industrial equipment.
Then how to connect Modbus devices to network and let them talk with each other?

There are 3 ways to achieve it:
No.1
Use DTU to transfer device data transparently. The resolution will be done by server
No.2
Use RTU as master to transfer device data to JSON format, custom HTTP, or custom hexadecimal protocol data
No.3
Use industrial IOT gateway from professional hardware manufacturers
Let
'
s see the advantages and disadvantages of the 3 ways:
No. 1 using DTU for transparent transmission
The good point is that hardware is very cheap and the setting is quite simple. In DTU device side, just do wiring and set transparent transmission server IP, server port, heartbeat package and device serial number.
The shortcomings are its high software development cost and severe data latency.
As it
'
s transparent transmission,
all Modbus settings and data resolution must be done in the cloud. Thus cloud
must fully follow the master-slave polling rule. This will increase cloud complexity and cause huge software development costs. If there are many datapoints, it will take almost a few minutes to finish one cycle of polling to update data. The data latency has negatively impacted actual applications.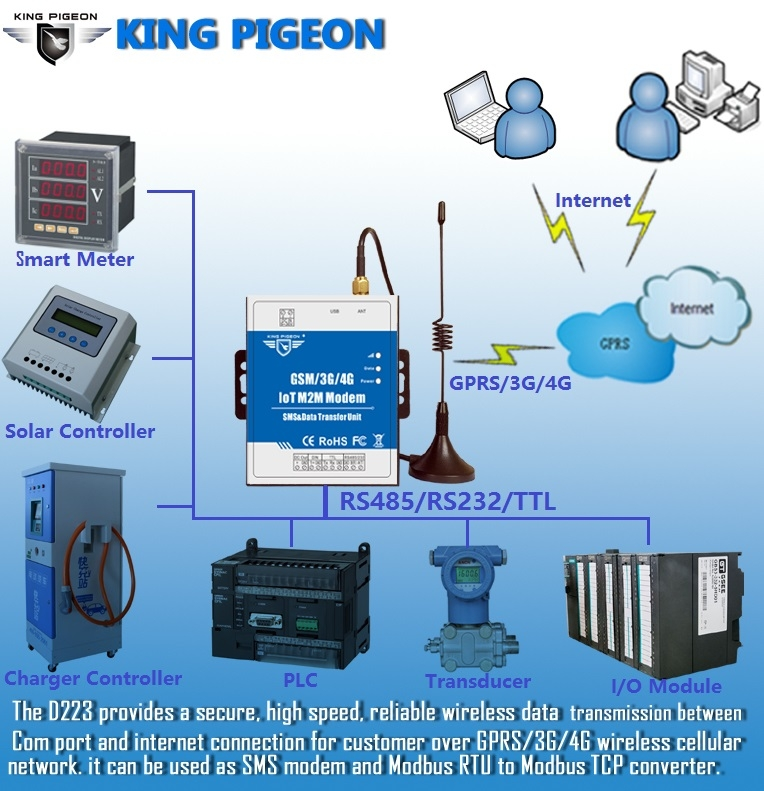 Therefore, this way is becoming outdated even though it was popular in the past few years.
No.2 using RTU as master to transfer data.
As DTU is not flexible enough and some applications need cloud for interaction, RTU can be a better choice. It can be applied to different projects agilely and cloud development cost is lower.
However, this way has its own disadvantage as well. The RTU hardware protocol must be customized according to specific customer demand, which will incur additional development cost. If device demand volume is low, RTU manufacturer may be reluctant to support.
For this kind of devices,
King Pigeon Communication Co.,Ltd.
is recommended as they have a full range of RTU devices with SMS and voice call alarm functions.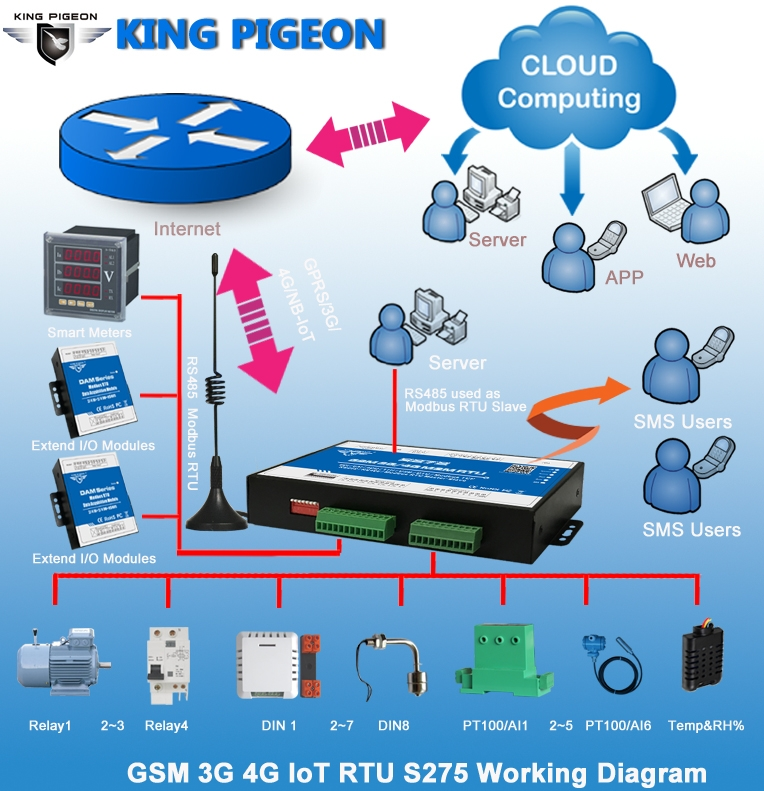 No.3 Using Industrial IOT Gateway
Industrial IOT Gateway

Software

.
It
'
s easy to implement. Just install software on a industrial computer. The weak point is it
'
s very expensive. Not only hardware cost is high, but also the software has additional cost. Usually it
'
s not accepted.
Industrial IOT Gateway Hardware
It
'
s the best options compared to other solutions. IIOT gateway hardware has its own software system. Data resolution is done in device system. It
'
s convenient to connect the gateway to cloud with MQTT protocol with low bandwidth and data latency.
King Pigeon Modbus to MQTT IIOT Gateway BL101 is a cost-effective and resilient device that can be implemented in many different applications.

It
'
s capable of collecting up to 4000 datapoints simultaneously. In addition to trigger, timer, multiple-topic publishing and MQTT re-transmission functions, it supports AWS cloud, Alibaba Cloud, HUAWEI Cloud, ThingsBoard Cloud and self-built servers with Modbus MQTT protocol. Users can easily read data from cloud with customized datapoint model. Both hardware and software costs can be largely saved.
For more information, please visit
www.iot-solution.com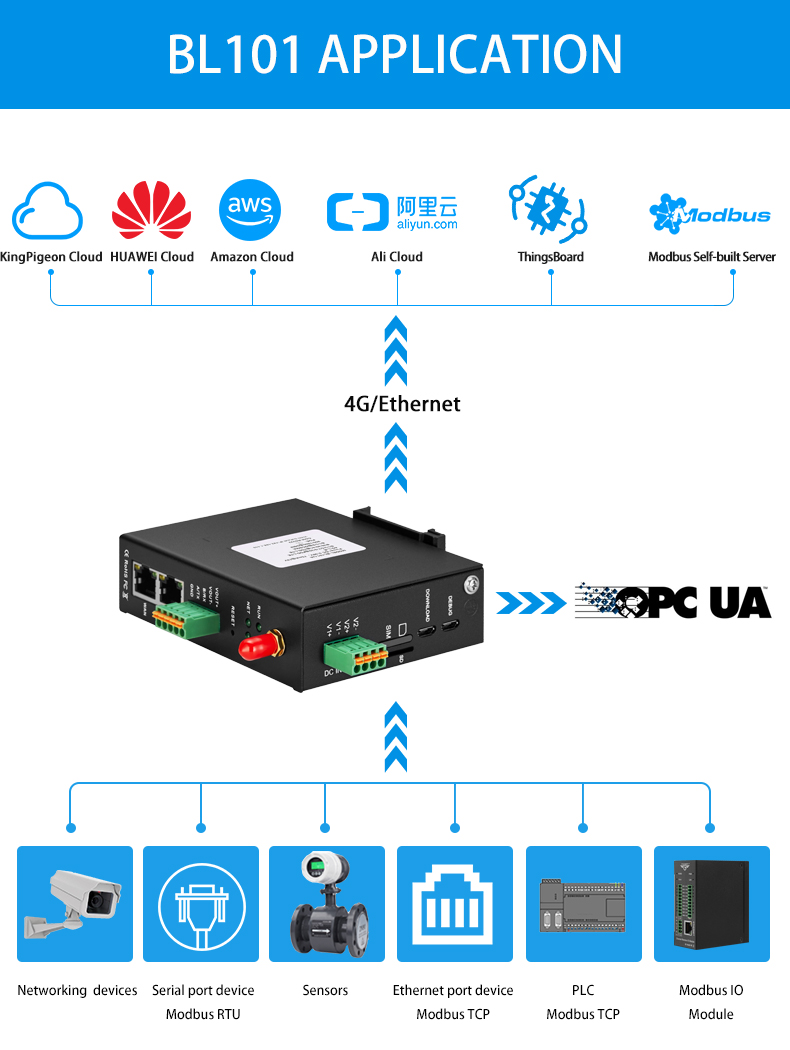 Leave a Reply
Your email address will not be published.Required fields are marked. *