By Fiona Dai |
03
August 2022 |
0
Comments
How to Monitoring Vending Machine by 4G Industrial Router?
Background
The intelligent vending machine combines Internet mobile payment to realize automatic delivery, which is not limited by time and place, can save manpower and facilitate transactions, and can also choose to sell different products according to different scenes and locations. It is a brand-new form of commercial retail. Known as a 24-hour micro-mart.
Common shared intelligent vending machines include beverage vending machines, food vending machines, integrated vending machines, and cosmetic vending machines.
Project Introduction
V
ending machine
+ BLIIoT R40B 4G Industrial router + Cloud platform
The BLIIoT industrial router connects the vending machine to the
cloud platform
through a serial port or an Ethernet port, and intelligently manages the vending machine through the Internet platform. The industrial router is equipped with a vending machine networking solution. Through a dedicated VPN wireless network, it can realize two-way data communication between the vending machine and the temporary control center, and realize automatic vending machine fault inquiry, timely replenishment, and simplified management.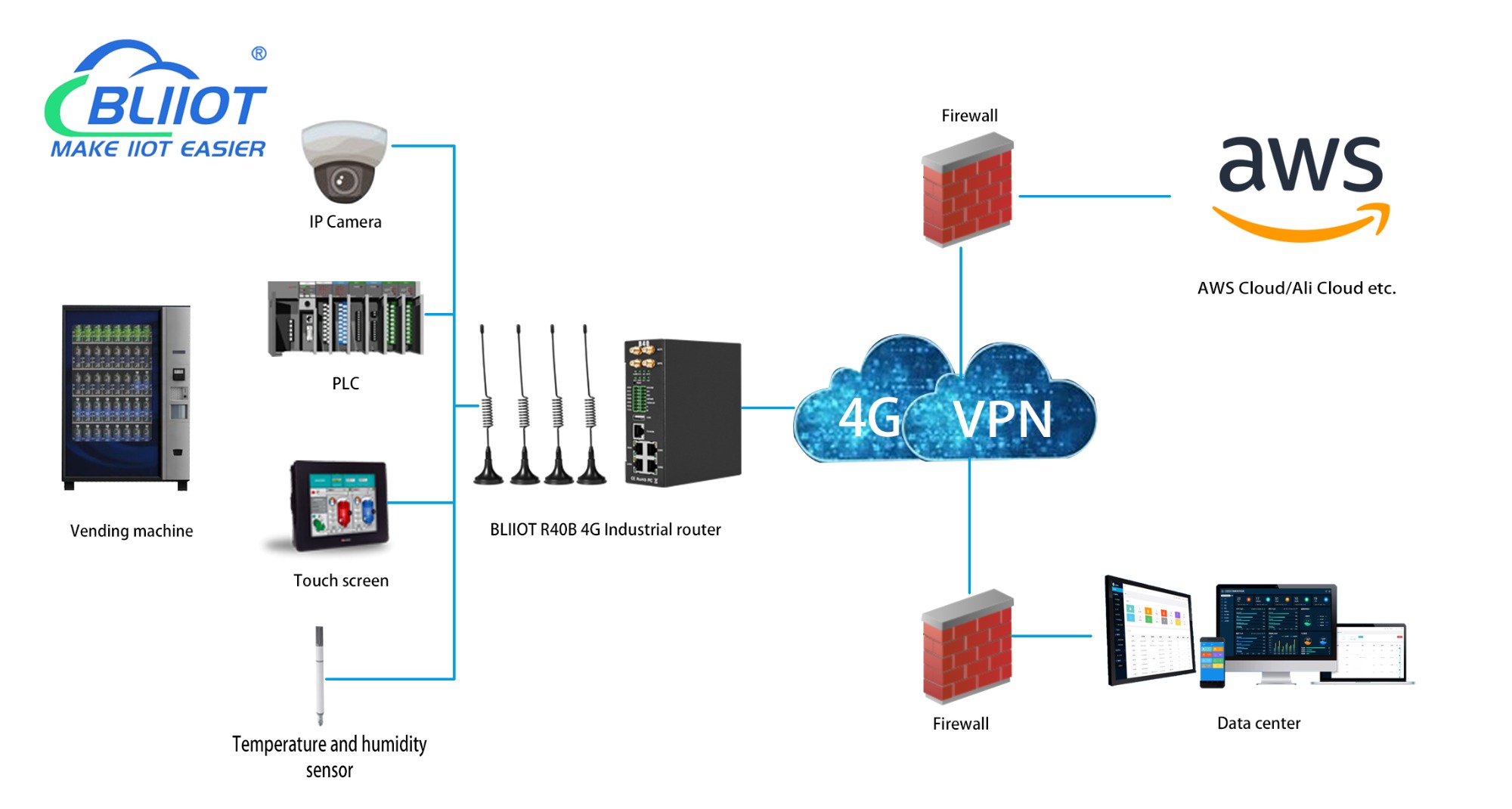 Vending Machine Monitoring and Management Benefits of IoT Technology
Automatic A

larm
When the operation of the equipment is abnormal or there is an accident around the vending machine,
the alarm will be sent by SMS and email, so you can monitor the device remotely and solve the issue when it happens without delay.
Camera

M

onitoring
Realize remote real-time video monitoring of the surrounding environment of the vending machine, effectively preventing vandalism
.
WIFI

Connection
Provide network for vending machines
, enable it to have stable communication capabilities.
Network

C

ondition

M

onitoring
Ensure the communication of equipment
, remotely real-time monitoring the running status of routers and vending machines.
Data Collection
Collect environmental data, such as smoke, displacement, vibration, glass breakage, temperature and humidity, and collect location data through GPS to determine whether the device has been moved.
Connect to

C

loud

P

latform
Upload the data to the cloud platform, and realize the remote monitoring of vending machines and the analysis of goods transaction data through the cloud platform
. Through the analysis of the sales of vending machines, timely replenishment of goods out of stock, price adjustment, and stop sales.
Leave a Reply
Your email address will not be published.Required fields are marked. *